EduCADD is India's #1 skill development organization set up to skillup freshers and professionals for digital economy. With over 24 years of experience we have been skilling freshers and working professionals through our wide network of centers spread across the country. Our skill trainings focuses on trending technologies in CAD/CAM/CAE, Full Stack Web Development and Digital Marketing. In addition to technical skill upgrade, EduCADD offers softskill and placement training programs to make students ready to face interview.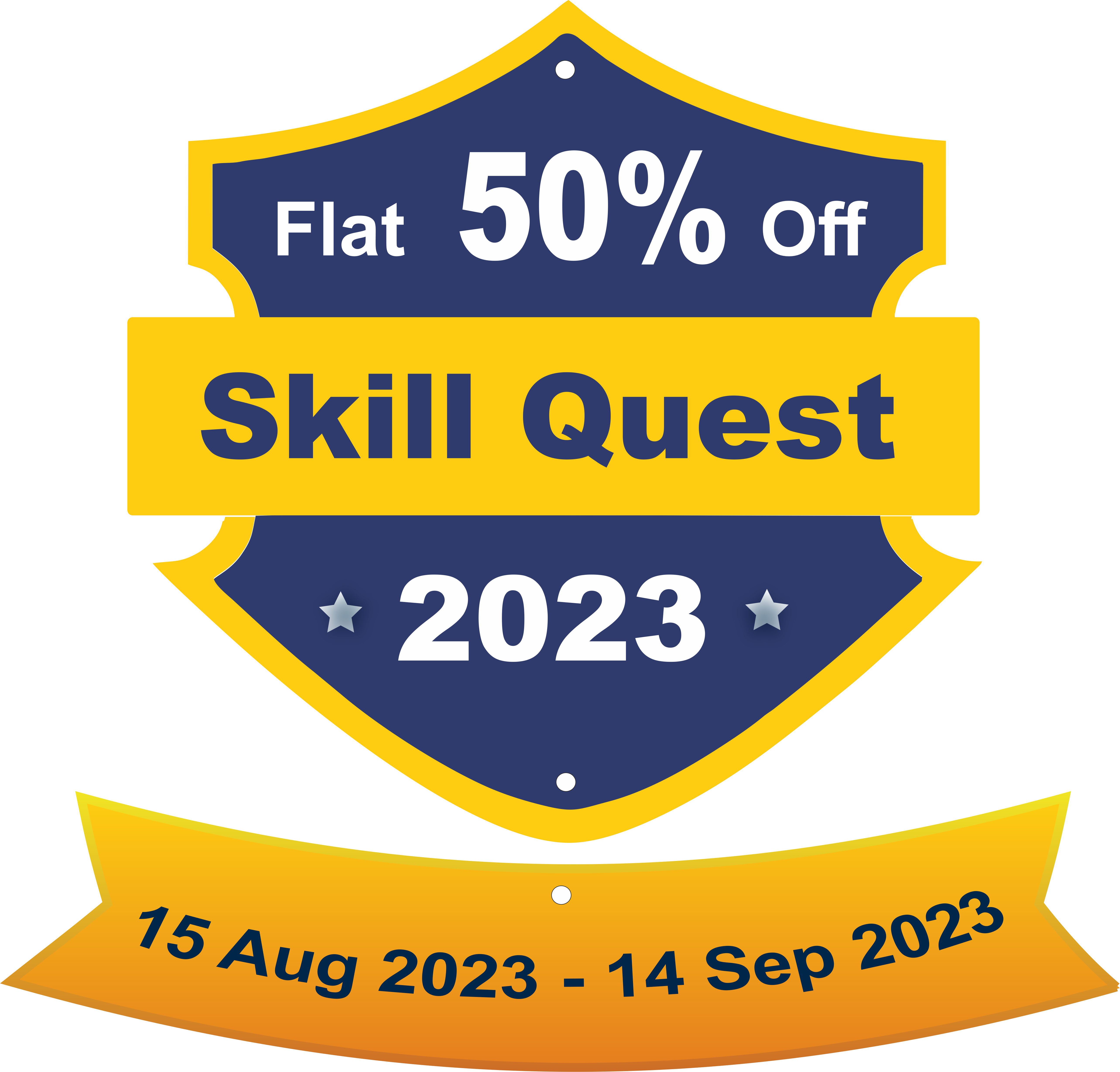 EduCADD presents Skill Quest, a scholarship program that empower you and makes you industry ready.
Skill Quest is an initiative by EduCADD with over 24 years of experience in skilling freshers and working professionals through its wide network of centers spread across the country. 2023 edition of Skill Quest is targeting skill development is trending technologies in CAD/CAM/CAE, Full Stack Web Development and Digital Marketing. We hope to achieve new landmark by making thousands of freshers industry ready this year. Jump on the Bandwagon and be part of this unique initiative. 
Skill Quest scholarship is offered from 15th August 2023 for a limited period for Professional and Master programs in CAD/CAM/CAE, Full Stack Web Development and Digital Marketing. Get ahead by enrolling today and avail this unique opportunity of the year by filling the above form.
KAMMANAHALLI, BENGALURU
Address:1st Floor, 5C-409, 5th Cross, Kammanahalli Main Rd, opposite to Rynox Showroom, behind Indian oil Petrol pump, HRBR Layout, Kalyan Nagar, Bengaluru, Karnataka 560043
Contact: +91 9611 9611 00
KRISHNARAJA PURAM (KR PURAM) BENGALURU
Address: Bus Stand, 230/1, 1st Floor, Swamy Vivekananda Road, above Mohan Jewelers, next to Rajkumar, Krishnarajapura, Bengaluru, Karnataka 560036
Contact:+91 94822 73917
MARATHAHALLI, BENGALURU
Adress: 1st Main Rd, Aswath Nagar, Marathahalli, Bengaluru, Karnataka 560037
Contact:+91 95904 43125
Srinagar, J & K
Address:116-Jwaharnagar, Rajbagh, Srinagar, Jammu and Kashmir-190008.
Contact: +91 9419752042
Park Street, Kolkata
Address: 32 Elgin road-Kolkata-700020
Contact:+91 9073282002
Hazratganj, Lucknow
Adress: 86-Halwasiya Market (2nd Floor), HazratGanj,\nLucknow – 226001
Contact:+91 9793336663 / 9044055663
Hosur, Tamilnadu
Address:#6, Kamatchi Layout, Moranapalli, Next to MRF Showroom, Near Adhiyamaan College of Eng, Hosur-635109
Contact: +91 7358396179
Udupi
Address: 2nd Floor, Hayath Towers, Above Jockey Showroom, Manipal Road, Udupi
Contact:+91 8147183603
Deccan, Pune
Adress: Unity Gold Complex, Unit no 301,3rd Floor, 672/1, Deccan Gymkhana, Near Deccan PMT Bus Terminus, Near Hotel Chhatrapati, River Side, Pune-411004
Contact:+91 9420493676
Hubli
Address:MVP Complex Above SBI,MahilaVidyapeeth, Opp. Hosur Bus Depot, Vidyanagar, Hubli – 580 030.
Contact: +91 9844597777
Jayanagar, Bengaluru
Address: # 606, 3rd Floor, SSMSS Arcade, 10th 'A' Main, 4th Block, (Behind Hot Chips) Jayanagar, Bangalore – 560 011
Contact:+91 9448116221
Tumkur
Adress: Shop No. 9, Siddaganga Complex, BH Rd, Opp. Basaveshwara Field, Venkatesh Rao Colony, Tumakuru, Karnataka 572103
Contact:+91 8162277022
Kothrud, Pune
Address:CHHATRAPATHI HOUSE,PRINTH NO.14,Survey No.128/1B,Shranik Housing Society,paud Road, Pune – 411038
Contact: +91 7263995533
Mandya
Address: #2075, SUBHASH NAGAR 1st CROSS(near WEST POLICE STATION), MANDYA – 571401
Contact:+91 9845366838
Guwahati
Adress: Ganeshguri, Nayanpur Road, House # 12A, Guwahati 781005
Contact:+91 9854441474
Akurdi, Pune
Address:2nd Floor,Chaitanya Park-4 ,D. Y. Patil College Road, Near Dharmaraj Chowk, Akurdi, Pune, Maharashtra 411035
Contact: +91 7498715520
Aurangabad
Address: 103, Labh Chambers, Railway Station Road, Vedant Nagar, Aurangabad 431001.
Contact:+91 9730307712
Ghatkopar, Mumbai
Adress:Office No. 06, 1st Floor, Arvind Villa, Near Bharat Cafe, Shraddhanand Road, Opp. Railway Station, Ghatkopar ( W), Mumbai – 400086
Contact:+91 9967197600
Davanagere
Address:#3680/07 C/O Sancharu, Bapuji Medical boys hostal road, 7th Main MCC B Block, Davanagere- 577004
Contact: +91 9591581777
Latur
Address: Infront of Dayanand collage,Beside MANAS Hotel, 2nd floor Latur 413512, MAHARASHTRA
Contact:+91 8956677614
Wagholi, Pune
Adress:BAKORI PHATA, ANAND MARKET GADE WASTI WAGHOLI PUNE – 412207
Contact:+91 8262968856
Chinchwad, Pune
Address:Office no 44, 3rd Floor, above Dwarkadas Shamkumar, Kunal Plaza, Near Chinchwad, Station, Pune, Maharashtra 411019.
Contact: +91 7263995522
Ameerpet, Hyderabad
Address:Flat no:203,2nd floor,manjeera plaza,oppost.aditya trade center,satyam theatre road, Ameerpet, hyderabad,pincode:500038.
Contact:+91 8341223203
Bhosari, Pune
Adress:Ramratna Galleria Complex, 3rd floor, Above Chitale Bandu Mitaiwale, Alandi Road, Besides HP Petroleum, Bhosari-411039, Pune.
Contact:+91 7769054967
Kukatpally, Hyderabad
Address:2nd Floor, Bhavani Plaza, Mig 229 KPHB Colony, Phase 1, Beside IDBI Bank, Travelers Road, Back of KPHB Busstand, NH65, Kukatpally, Hyderabad, Telangana 560072
Contact: +91 9010387888
Thane, Mumbai
Address:Abhijeet society ,Navpada ,Near Thane station ,1st floor block no 105 Thane west maharashtra 400602
Contact:+91 9372196296
Dombivli, Mumbai
Adress:202, Navare Plaza , Ram Nagar , Above Haldiram , Dombivli (East ).
Contact:+91 7039015069
Nagpur
Address:Maharashtra Gandhi Smarak Nidhi, Bajaj Nagar, Nagpur, Pin 440010
Contact: +91 8530980069
Panvel, Mumbai
Address:120 , Raje C omplex, MTNL Road , Near S hivaji C how k, MCCH Society, Panvel, Navi Mumbai, Maharashtra-410206
Contact:+91 9029605605
Kalyan, Mumbai
Adress:Office No 302, third floor , Chandulal JBLDG , above vodafone gallery , Opp kalyan (west) railway station 321301
Contact:+91 7666333123
Mysuru
Address:#676, New-K-21, 1st Floor, Next to Lakshmi Theater, 100ft Road, Chamaraja Double Road, Mysuru-570024
Contact: +91 7259515656
Solapur
Address:In Front of WIT College, Fortune Centre, Near Ashok Chowk, Solapur-413006
Contact:+91 7414904041
Kattupakkam, Chennai
Adress:Door No 2/72 & 2/80 Second Floor, Mount Poonamalee High Road, Kattupakkam, Chennai 600056 LANDMARK : opposite to Tata Motors car showroom
Contact:+91 9042770774
Banashankari, Bengaluru
Address:#5, 3rd Floor, Kathriguppe Ring Road, BSK 3rd Stage, Bengaluru-560085
Contact: +91 9686916333
Schedule a Demo or a Call